G'day and Welcome to My Website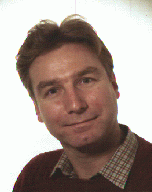 My name is Berndt Wulf and if you haven't already guessed it, this is why I carry the nickname "HotDog" eversince my feet touched Australian soil.
I was born on 8 October 1957 in Duesseldorf, West Germany, a city nearby Cologne with a population of around 650,000 people. I've completed a Radio and Television Technician apprenticeship and worked in various areas of the electronics industry.
On 13 June 1982, I arrived in Sydney together with my wife, she is a "Kraut" too, just in time to celebrate Queen's Birthday. My family has since grown to four members with the arrival of Andreas and Karoline.
My hobbies are horse-riding, amateur radio communications, philately, information technologies, full bore long range rifle shooting and last but not least my family. I've also recently developed an interest in genealogy and since started researching my family's history.
I am operating a small public Internet server in view to train myself in the art of unix system administration. Initially, it was part of the APANA (non-for-profit) network, but is now connected to the Internet via a commerical ISP.